Architecture
<![if !vml]><![endif]>
 

ARCHITECTURE AT TRITON
<![if !vml]>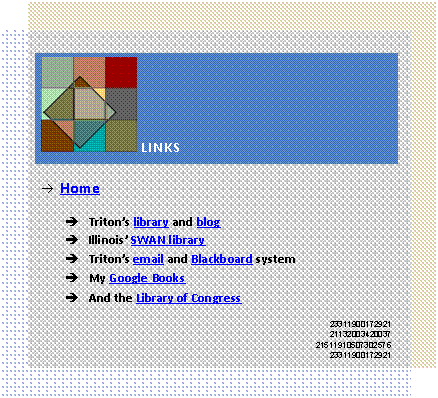 <![endif]><![if !vml]>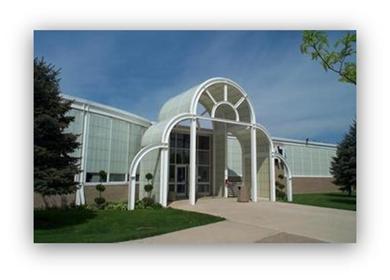 <![endif]>map
  A recent Spring and Fall schedule of Triton's architecture courses
<![if !vml]><![endif]>
 

MY CLASSES
ARC 210 – HISTORY OF ARCHITECTURE
A list to the earlier edition of my textbook. 
An online compendium of American architecture, and a list of the world's most popular buildings.
ARC 120 – BUILDING STEEL
<![if !vml]>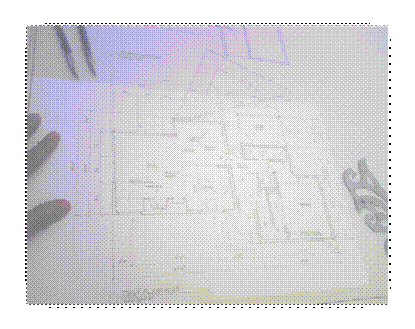 <![endif]>A past class website (2006), with concepts, activities and resources.  The textbook publisher's companion site and additional links, and the author's. 
A fabricator's of castellated beams, joists and decking.   Castellated beams have surprising applications.
A nice course website that I am "stealing" understanding from (on King Mongkut's University of Technology Thonburi)
ARC 140 – BUILDING MECHANICAL, ELECTRICAL & PIPING SYSTEMS
A past website (2009)
A past website for the class
>> CONTRAST, BALANCE and 10  other tools of composition
>> LINES, PATTERS and 9 other design elements
>> OUTSIDE-INS, PRE-SET PLANS, FAMILIAR SYMBOLS and 19 other design techniques
ARC 189 – COMPUTER AIDED DESIGN
A past  webiste (2006), for the class, with concepts, activities and resources
<![if !vml]><![endif]>

 

terminology
My growing vocabulary  (I need to know this stuff!).  A glossary from InteriorDezine mag.
A glossary of house panting and classic architectural terms one two three
The Merriam-Webster Visual Dictionary of architecture
The Thames and Hudson dictionary of 20th century architecture
Bill Bradley's wonderful illustrated glossary www.builderbill-diy-help.com
<![if !vml]><![endif]>
 

resources
The Library of Congress's architectural collections.  The list includes the Historic American Buildings Survey
General resources from instructor's Frank Heitzman's website
United States Gypsum (USG) gypsum construction handbook
A list of Resources from Gerald Hines College of Architecture at U of Houston
Architecture on About.com
Information for students on Cold-formed Steel Structures. Their guide to Low-Rise Residential Construction
Astoft's collection of buildings of England and buildings in Denmark
Greatbuildings.com -  searchable database (by building, architect, city)
Bryn Mawr's WORLD ARCHITECTURAL HISTORY SURVEY: Part I and Part II
<![if !vml]><![endif]>
 

AMERICANA
American house styles as described in Wikipedia
<![if !vml]><![endif]>
 

buildings i like
As bumped into on the internet, as discovered in my history course (ARC 210 above), or otherwise serendipitously discovered.  Enjoy!
A so-called Horizontal Skyscraper
<![if !vml]><![endif]>
 

design awards
AIA Chicago's yearly design awards
<![if !vml]><![endif]>
 

PRODUCTS i like
CUPOLEX formwork for floor slabs.  I first read about it in ENR magazine.
<![if !vml]><![endif]>
 

technology & the trade
Some nice pictures of post & beam structures
Commercial structures of the Vermont Timbers Works
<![if !vml]><![endif]>
 

PERIODICALS
The Architectural Record Magazine.  Their compendium of office buildings.
ArchitypeReview keeping track of "innovation & advancement in world architecture"
Journal of the Society of Architectural Historians.  SAH  JSTOR's architecture publications.  Their list of colleges with architectural history programs. 
Building Design & Construction and Engineering-News Record magazine
<![if !vml]><![endif]>
 

ARCHITECTS
List of Masters in the Swiss site VITRUVIO.CH
<![if !vml]><![endif]>
 

structural engineering
A nice pilot website discussing structural failures, http://failures.wikispaces.com/.   
   On this wikispace there is a great discussion of the failure of marble cladding at the famous AMOCO building<![if !vml]>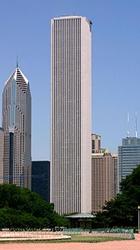 <![endif]>  (now AON) in downtown Chicago.  By the way, The 10,000 kips of scrap Carrara marble went to many uses, I understand.  On a sale on www.craigslist.com , I see that some went to "25 handicapped workers" who "carved the discarded Italian Carerra marble ... into a variety of specialty items such as corporate gifts and mementos including desk clocks and pen holders. "
The other end product I am intimately familiar with – I worked at BP's Whiting refinery, <![if !vml]>

<![endif]> and much of the stone mulching around their administrative buildings <![if !vml]>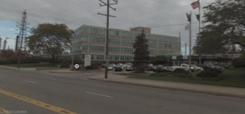 <![endif]>on Standard Avenue consist of the crushed marble.  And by the way, I was thrilled to be able to tell this to my architectural history instructor Frank Heitzmann when he broght up the subject in class.
<![if !vml]><![endif]>
 

OTHER STUFF
The National Building Museum in Washington, D.C.
Mies van der Rohe's crazy & wonderful Farnsworth House building in 1950 in nearby Plano, Illinois.
Living with Mies – a discussion form in the NYT about life in Mies van der Rohe designed buildings
Some public library designs – some cool, some not.  What's missing is Moshe Safdie's Vancouver Public Library
About dye-based and pigmented inksCase Foundations web page for the foundations of the Trump Tower on the Chicago River.  I watched a fair bit of the work occur.  Emporis' list of Case's work.
A blog that I like
Some architectural links in a University of Texas' course on Ancient Rome:  Pompei architecture and Roman Art & architecture